Customers
ENVIRONMENTALLY CONSCIOUS DELIVERY TO CUSTOMERS AROUND THE WORLD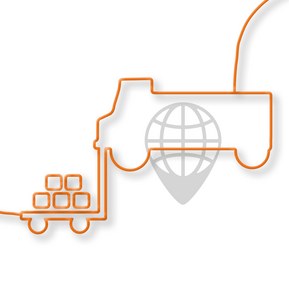 LAPP has a close-knit network of logistics centres and excellent sales experts available worldwide. We continuously coordinate which products are produced in which plants around the world, and in which logistics centres they are stored, depending on their suitability for our global or local portfolio with regional legal considerations. This ensures shorter transport distances and efficient shipping processes thanks to sophisticated digital logistics solutions. Nevertheless, packaging, for example, is essential to protect the products and the safety of the customers. We are therefore constantly on the lookout for ways to optimise packaging and save materials, for example by using films with a high recycled proportion and, ideally, we want to be able to reuse materials.
At the same time, we want to support our customers in adopting a more sustainable approach. This applies to disposal and, above all, to recycling our packaging. To this end, LAPP Group Stuttgart is strengthening our commitment to sustainable and resource-saving practices with our customers by offering free disposal and recycling of our packaging in cooperation with our partner Interseroh.
Our decentralised network of experts also supports our efforts to develop a mobility concept that further promotes positive development with short distances and a range of sustainable mobility solutions. Our logistics department develops modern and sustainable transport solutions, both for equipping our own vehicle and transport fleet and for selecting forwarders and transport routes used worldwide. We search every day for the optimum combination of delivery time, transport safety and sustainability, with the aim of focusing more and more on sustainability.
What we are committed to in terms of logistics:
Sustainable packaging material: new concepts for type and recycling of packaging material
Sustainable transport management: shorten transport distances through a regionally customised product portfolio in customer-oriented distribution centres and local production, as well as bundling orders
Sustainable mobility concepts: for the means of transport used, for local sales and for employees
Example: LAPP and logistics partner
Many products for everyday use are transported thousands of kilometres to the consumer. This has also been the case for connection solutions such as cables and connectors. Thanks to optimised internal factory transportation and energy-efficient logistics partners, LAPP has managed to significantly reduce both distance travelled and CO2 emissions.
Further information